Accurate* as of 11-03-2020 
Algeria
Confirmed cases: 20, Deaths: 0, Recovered: 0
The spread of the COVID-19 pandemic has resulted in 20 cases in Algeria so far. 
Because 16 of these 17 cases belonged to a single family, Algerian authorities were hopeful they could contain the spread, since then 3 more cases have been discovered.
On the evening of Sunday, March 8, the Algerian Ministry of Health published new guidelines for hospital directors. The government presented over $3 million in additional funding to fight the spread of the virus on Monday, March 9. The most recent cases have been quarantined in Blida province south of Algiers.
Bahrain
Confirmed cases: 189, Deaths: 0, Recovered: 30
For an island nation as small as Bahrain, 189 cases indicate a very high infection rate. 
Bahrain's close links in trade and travel across the Middle-East have presented the nation with a dilemma. Because of the frequency of travel in and out of the country, Bahrain's Ministry of Health has asked citizens to return from Lebanon and Egypt to self-isolate.
The government appears to be taking some preventative measures: The Formula One Grand Prix will go on as planned, on Sunday, but without the thousands of fans that usually attend such an event. 
Since Monday, March 9, Bahrain's numbers have more than tripled from 51 to 189, leading Saudi-Arabia to declare a 72-hour window for Saudi nationals to leave Bahrain before Saudi Arabia closes down travel to and from Bahrain.
Egypt
Confirmed cases: 60, Deaths: 1, Recovered: 1
Reported cases are rising rapidly in Egypt, where the death of a 60-year-old German tourist in Hurghada marked the country's first COVID-19 fatality on March 8.
Taiwan's first reported case of the virus appears to have originated in Egypt. A Taiwanese woman who had recently visited Egypt as a tourist was diagnosed with the virus.
The number of confirmed COVID-19 cases jumped from three to 45 by Monday, since then the number of reported cases has increased to 60.
Graphic: Global overview (WHO map, page 1)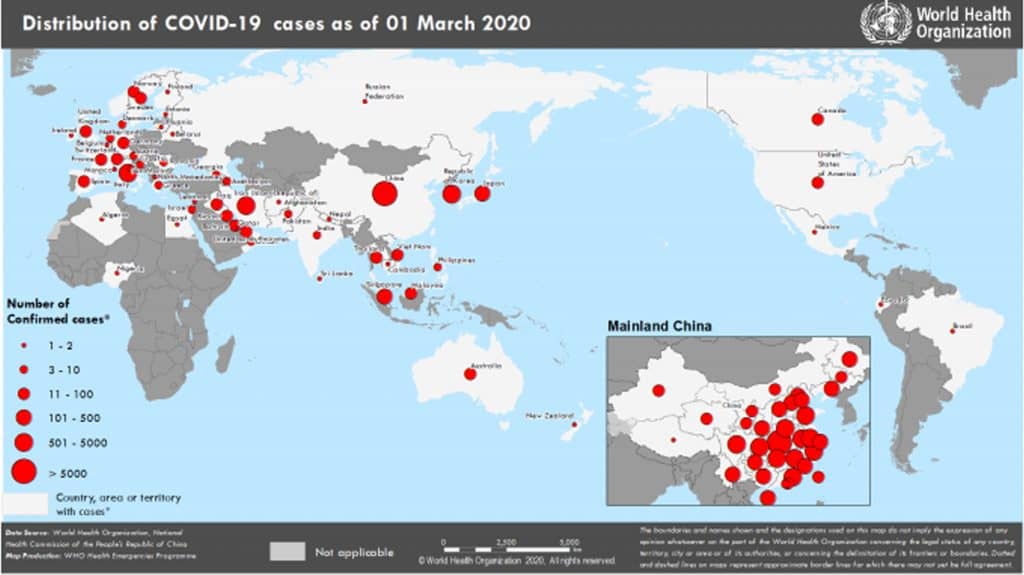 Iran
Confirmed cases: 6000, Deaths: 354, Recovered: 2959
With more than 6,000 confirmed infections and 354 reported deaths, Iran appears the worst-hit MENA-country thus far. 
The alarming number of infections among politicians and senior health officials indicates that the virus is poorly contained. Reports that two senior politicians have died of COVID-19, as well as indications that the head of Iran's corona-response, Esmail Najar, has been infected, offer little hope that the virus can be contained within Iran's borders.
Iraq
Confirmed cases: 71, Deaths: 7, Recovered: 3
Iraq has enough issues to keep its politicians awake at night already—protests against the government have brought the country to a standstill on several occasions and the country's economic crisis affects every part of society. 
Muayyad Al-Alami, president of Iraqi Syndicated Journalists, has sounded the alarm that more trouble is ahead. 
Iraq has so far reported dozens of cases, but protesters have refused to abandon public events. On Friday night, protesters in Baghdad were heard singing, "let coronavirus come to Iraq to take revenge at militias and corrupt politicians."
Footage: 
The Iraqi government has so far approved emergency measures to try to stop the spread of COVID-19 in Iraq, including banning Shia pilgrimages to Najaf, as Johns Hopkins data set the number of confirmed cases to 71.
Israel
Confirmed cases: 76, Deaths: 0, Recovered: 4
Now that 76 cases have been reported, Israel is a key country in the Middle-East COVID-19 pandemic.
The Israeli government is now quarantining all visitors from abroad, regardless of their origin.
In Athens, an Israeli diplomat and his family were diagnosed with the virus. 
Israel and Jordan have now both closed their borders with the West Bank.
Jordan
Confirmed cases: 1, Deaths: 0, Recovered: 0
The Jordanian government is taking a careful approach, quarantining citizens who have traveled abroad and banning visitors from China, South Korea, Italy, and Iran. 
Jordan now has 77 people under quarantine, down from 296 last week. Only one case has been reported and an increasing number of those under quarantine have been cleared.
Kuwait
Confirmed cases: 72, Deaths: 0, Recovered: 2
Kuwait reported three new cases on Monday, March 9, and seven more since. This brings the total number of confirmed cases to 72, according to data provided by Johns Hopkins. 
All suspected patients have been brought to a designated hospital for medical observation, with three patients in intensive care, Al-Arabiya reported on Monday. The public does not appear reassured after the Kuwaiti Arab Times reported that an infected person had recently attended a public funeral.
Lebanon
Confirmed cases: 61, Deaths: 3, Recovered: 1
Reuters reports that the country's shortages of imported goods have not yet hampered the containment, but Lebanon's close contact with several countries with high infection rates, as well as it's connection with Iran, indicate that further spread of COVID-19 can be expected.
On March 11 Lebanon recorded its second COVID-19 related death, as well as 8 new cases according to Naharnet.
Libya
No data available
In a country with no effective government, an active civil war raging, and close contact with several countries with a relatively high incidence of the virus, it should stand to reason that the virus will have a significant impact on the country if it is not already. 
At the end of February, Libya's Ministry of Health claimed there were no cases of the virus whatsoever, yet it remains to be seen if the Tripoli government could do anything at all to stop the virus given it's lack of control over the country.
Mauritania
Confirmed cases: 0, Deaths: 0, Recovered: 0
Mauritania has so far remained untouched by the COVID-198 pandemic, according to numbers provided by Johns Hopkins University.
Morocco
Confirmed cases: 6, Deaths: 1, Recovered: 0
On Tuesday, March 10, Morocco confirmed its first death due to the virus, after an 89-year-old woman with chronic condition died in a Quarantined Casablanca intensive care unit.
Both the public and private sectors are taking the virus seriously. All events with more than 1,000 attendees have been canceled and a national campaign is informing citizens how to avoid the risk of contamination.
Morocco World News today reported three new cases on Wednesday, March 11, as the pandemic intensifies worldwide.
Oman
Confirmed cases: 18, Deaths: 0, Recovered: 9
After detecting its 16th case of COVID-19, the government of Oman has decided to suspend all flights from Egypt. How effective the ban will be remains to be seen: two further cases have been reported since the ban was put in place.
Palestine
Confirmed cases: 26, Deaths: 0, Recovered: 0
The Palestinian Authority has declared a state of emergency after the virus has spread from Bethlehem to nearby Nazareth. Major economic hardships are expected as Israel closes borders and the Palestinian hospitality branch appears to be the current source of infection.
Qatar
Confirmed cases: 262, Deaths: 0, Recovered: 0
Similar to Bahrain, Qatar's small size and international outlook makes it rife for contact with COVID-19 infected individuals. The country has banned travelers from 14 countries and closed all schools and universities.
Qatar recorded 238 new cases in one day, according to the Qatar Ministry of Health.
Pakistan
Confirmed cases: 19, Deaths: 0, Recovered: 1
Pakistan's close proximity and trade with Iran might result in an increase in the infection-rate in the near future. Pakistan has a lot at stake: The Asian Development Bank estimates the economy might lose $5 billion as a direct result of the virus.
Saudi Arabia
Confirmed cases: 21, Deaths: 0, Recovered: 1
Saudi Arabia has so far reported 21 cases, including four new cases Monday, March 9 and six cases since. The government has suspended travel to and from nine countries, closed schools, and universities, and has put an area home to half a million people under quarantine.
Syria
No data available
With many of its largest cities in rubble and several foreign military forces active within its borders, Syria is wholly unprepared for the inevitable spread of COVID-19. Bordered by countries where the virus has been detected, and working closely with Iran, it is only a matter of time until the scale of the virus in Syria is revealed.
Tunisia
Confirmed cases: 6, Deaths: 0, Recovered: 0
Tunisia has so far reported six definitive cases of the virus. The government has banned flights to Italy and is contemplating potential further travel bans.
Turkey
Confirmed cases: 1, Deaths: 0, Recovered: 0
The Guardian reports that a Turkish citizen, returning from Europe, has been found to carry the COVID-19 virus. The man has been quarantined along with his family.
United Arab Emirates
Confirmed cases: 74, Deaths: 0, Recovered: 12
Like other Gulf countries, the UAE is experiencing a rising number of infections. 
The UAE's position as a global hub for travel has led local airlines to issue waivers to customers now banned from flying. With a two-week vacation starting today, the government has urged teachers, school staff, and students not to travel abroad.
Yemen
No data available
WHO reported last week that no cases have been confirmed as of yet, warning that Yemen is ill-equipped to deal with the inevitable spread of the virus. 
The ongoing civil war means little to no containment is possible on a national level in Yemen. Houthi health officials reported to Al-Monitor that 193 Yemenis had recently returned from China and had been tested and released.
*data provided by Johns Hopkins University, updated as of 11-03-2020