Only custodians and officials of the Grand Mosque at Mecca and the Prophet's Mosque in Medina were able to enter the places of worship for Eid al-Fitr prayers this year amid strict COVID-19 curbs to prevent the virus from spreading during the holidays. 
King Salman bin Abdulaziz Al Saud announced on May 23 that Eid prayers could proceed in the two mosques, but without worshipers. 
Instead of the thousands of people who normally pack Islam's two holiest sites for the occasion, only a few hundred custodians, officials, and security personnel gathered in Mecca's Grand Mosque to perform Eid al-Fitr prayers.  
Security guards in masks watched on during the prayers and received sweets from worshippers afterwards.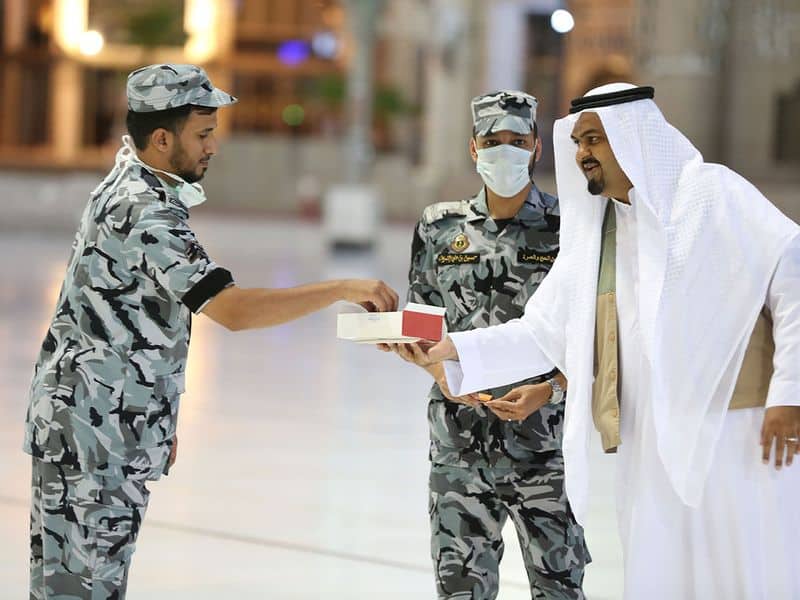 Muslims throughout Saudi Arabia are also finding new ways to enjoy a quieter-than-usual holiday without the traditional Eid greetings, family gatherings, communal prayers. and last-minute trips to the mall.  
"I will miss having breakfast on the first day of Eid with friends and family," 19-year-old student Jana Bashraheel told Arab News. Instead of the usual visit to the mosque, she will be praying from home with her family this year due to COVID-19 restrictions.  
All mosques across the Gulf kingdom remain closed to worshippers and the Saudi government has imposed a strict 24-hour curfew to prevent celebratory gatherings which could accelerate the spread of the virus. Neighborhood mosques have, however, obtained permission to broadcast Eid prayers to help worshippers perform them from the safety of their own homes. 
Many Saudis have turned to online shopping to source the Eid gifts and sweets that are normally shared with family and friends during the religious holiday. Others like Amal Al-Thobaiti from Jeddah have used the extra time during lockdown to hand-make decorations, saying she is feeling more optimistic and thoughtful about Eid this year than ever before.
"I have never been this thoughtful about Eid before. It is my first time putting this much effort into it, but with the current depressing crisis we couldn't allow it to get gloomier," Al-Thobaiti said.
Read also: Shawwal Crescent Moon spotted over Saudi Arabia, UAE