The General Civil Aviation Authority (GCAA) of the UAE announced today, March 14, that all incoming and outgoing flights from Lebanon, Turkey, Syria, and Iraq are suspended from March 17. 
The decision comes in response to the novel coronavirus (COVID-19) outbreak that is steadily growing throughout the Middle East and North Africa. The UAE has confirmed 85 cases of the new coronavirus, with 20 patients recovered and no deaths.
The total number of coronavirus cases in Lebanon has risen to 93, with three deaths, the Lebanese Health Ministry said on March 14. Iraq has reported 10 coronavirus-related fatalities. 
Meanwhile, Turkey announced on March 13 the closure of all borders to passengers coming from nine European countries to prevent the spread of COVID-19. Current cases in the country now stand at five, according to the Turkish Minister of Health, Fahrettin Koca.
Schools in parts of northern Syria have been closed for the next two. Figures of COVID-19 cases and deaths in Syria are unknown.
The GCAA added that UAE authorities "under the National Emergency Crisis and Disaster Management Authority (NCEMA) are following up the global situation due to coronavirus to take the best appropriate decisions that ensure the continuity of the work within the UAE and lower the risk of coronavirus spread."
The GCAA encouraged all travelers affected by the decision to communicate with airlines to ensure safe returns to their final destinations without delay.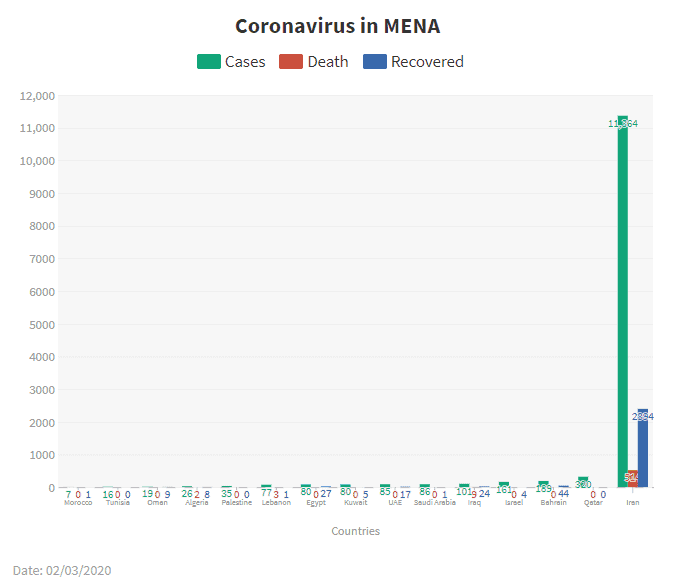 Coronavirus in MENA 2 – Line, bar and pie charts by Flourish team
By Omar El Katouri on 14 Mar 2020